Katie Bandy, RN – IVF Coordinator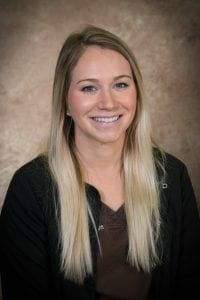 Prior to coming on board at Atlantic Reproductive Medicine Specialists, Katie started her career as an oncology nurse. Later, she transitioned to the labor and delivery department, and eventually, became an IVF coordinator at a practice in Baltimore. Katie's fiancé's job brought the couple to the Triangle area and the rest is history!
What Katie loves most about coming to work each day is being able to make a positive mark on a patient's life. She enjoys connecting with her patients by forging a bond of trust and making them feel at ease. The greatest compliment Katie's been paid since she started her career was being told that, "without her, her patient would not have been able to become a mother".
When she's not at work, Katie can be found indulging in wine and cheese, training for marathons, educating herself about nutrition or practicing yoga. She has two feline furbabies named Jada and Josie.
Katie's life goals include going on a mission trip to Haiti or Africa and positively influencing as many people as she can.